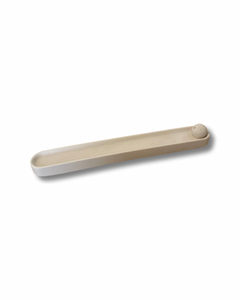 Long Incense Holder- elegantly designed incense holder
Elevate your meditation sessions with this beautiful Long Incense Holder. Its simple design complements any decor, making it a perfect addition to your home. Gentle aromas and peaceful moments await you. Transform your space and enjoy the calm it brings!
Dimensions:  Length (23cm), Width (3cm)
All products are handmade and one of a kind. While we try to portray items as accurate as possible, variations in pigment, texture and pattern can be expected. During the setting process air bubbles are released, creating perfectly imperfect textures. 

Wipe with damp cloth. Do not microwave or put in dishwasher.