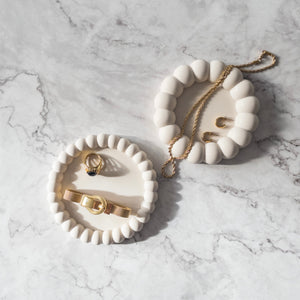 Bubble Tray- round trinket dish with bubble design
Organize and protect your jewelry, trinkets and other accessories in style with this chic, bubble tray. Crafted with a modern, abstract design, this tray is not only beautiful but also durable and reliable. Perfect for adding a touch of glam to your vanity or dresser.
Dimensions:  Diameter (14cm)
Material: Jesmonite
All products are handmade and one of a kind. While we try to portray items as accurate as possible, variations in pigment, texture and pattern can be expected. During the setting process air bubbles are released, creating perfectly imperfect textures. 

Some items are made to order and therefore may take up to 7-10 days to be completed. 
Wipe with damp cloth. Do not microwave or put in dishwasher. Material not tested for food safety. 
If you are interested in a custom colour/ design (Marble,add gold flake, sparkle etc) please contact. hello@sienastyle.ca